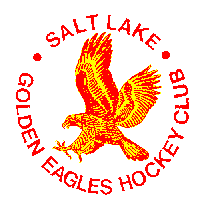 The Unofficial Homepage of the Old
Salt Lake Golden Eagles Hockey Club
May their memory live on
---
---
---
Background
There once was a hockey team, who played for a quarter century in the city of Salt Lake. For many years, this hockey team was the only professional sports in town during the Winter. And successful it was.
The Salt Lake Golden Eagles played for 25 years, from 1969 to 1994. They survived two hockey leagues going out of business, a pro basketball team, the Utah Stars, who won a championship, and won championships in two of the hockey leagues it was in. It survived the United States' lean years of hockey in the late 70s / early 80s, when many people thought hockey was a thing of the past, and basketball would be the only Winter sport.
In 1994, as the sport of hockey was at an all time high in popularity in the United States, the Golden Eagles were sold. They were sold by Larry Miller, owner of the Utah Jazz, to a Detroit group for the price of $5,000,000. Miller said he was losing too much money on the team.
Miller didn't support the team enough. First, he had an excellent hockey venue, the Salt Palace, torn down as part of the agreement to build the Delta Center. The Delta Center leaves something to be desired as a hockey arena. Second, the team was not promoted properly. Two seasons after the Eagles' death, the Grizzlies had a rather successful season at the Delta Center. In fact, on the night they won the Turner Cup in 1996, their attendance was higher than it was at Stanley Cup Game 3 in Florida.

---
---
Timeline // Players // The Front Office // Arenas // Logos // Team Record // Attendance // The Games // Related Homepages // Credits
---
---
---
---